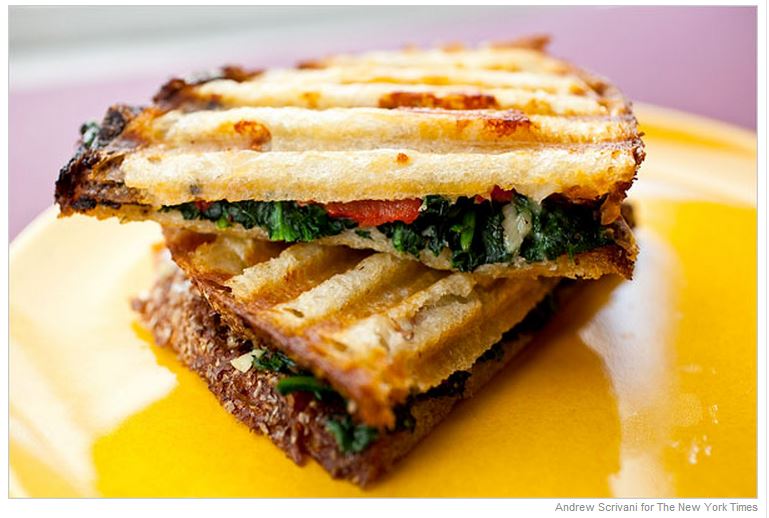 Spinach and Red Pepper Panini
12 ounces (2 bags) baby spinach
3 tablespoons olive oil
2 garlic cloves, minced
Salt, preferably kosher salt and freshly ground pepper
1 large or 2 smaller roasted sweet red peppers, sliced
1/4 pound mozzarella, grated
8 slices whole grain country bread
1. Bring a large pot of generously salted water to a boil. Fill a bowl with ice water. Add the spinach to the boiling water and blanch for 10 to 20 seconds. Transfer to the ice water to cool for a few minutes, then drain and squeeze out excess water. Chop coarsely.
2. Heat 1 tablespoon of the oil in a large, heavy skillet over medium heat, and add the garlic. Cook, stirring, until the garlic is fragrant, about 30 seconds, and stir in the spinach. Toss together to coat with oil, and season to taste with salt and pepper. Remove from the heat.
3. Preheat a Panini grill. Top four of the bread slices with the spinach, and top the spinach with strips of roasted pepper, then with cheese. Top with the remaining bread, and press together. Brush the outside of the bread (top and bottom slices) with olive oil. Place in the Panini maker and grill for five minutes, until the cheese has melted and the bread is toasty. Slice in half, and serve hot.
Serves: Makes four Panini
Advance preparation: You can prepare the spinach through step 2 several hours or even a day ahead of assembling the Panini.
I love this wonderful  Spinach and Red Pepper Panini recipe courtesy of of the NY Times.  Try it and let me know what you think? Do you have a favorite Panini Recipe?