MOD Interiors offers full-service Christmas Interior Decorating services in Colleyville, TX and the surrounding DFW area.
Make it the most magical Christmas yet, let us decorate your home or office this year!
Modern Classic Christmas Interior Decorating Services for Residential & Commercial Spaces.
The holidays are a time for celebration and cheer, not stress!
Our clients come to us for a professional, hassle-free experience that produces brilliant results that give their home or office that special something for the holidays! 
As a busy professional, it can be difficult to find the time and energy to decorate your home, and still have enough left over to enjoy the season. Let us bring the magic back into your home or commercial space with our full-service interior and exterior holiday decorating services. No need to worry about finding time for creating the merriest of spaces, we will take care of that for you. From Christmas trees to garlands to wreaths, we can transform your area into a stunning, festive display.
You can choose from a variety of holiday decorating services, including custom designs that will fit your individual and unique style. If you're looking for a simpler approach, let our design professionals come in and spruce up the décor you already have on hand, giving you that 'WOW' affect you are after. Plus, we'll handle the take-down! 
Now serving local businesses and residential homes in the Colleyville and Dallas Fort-Worth area.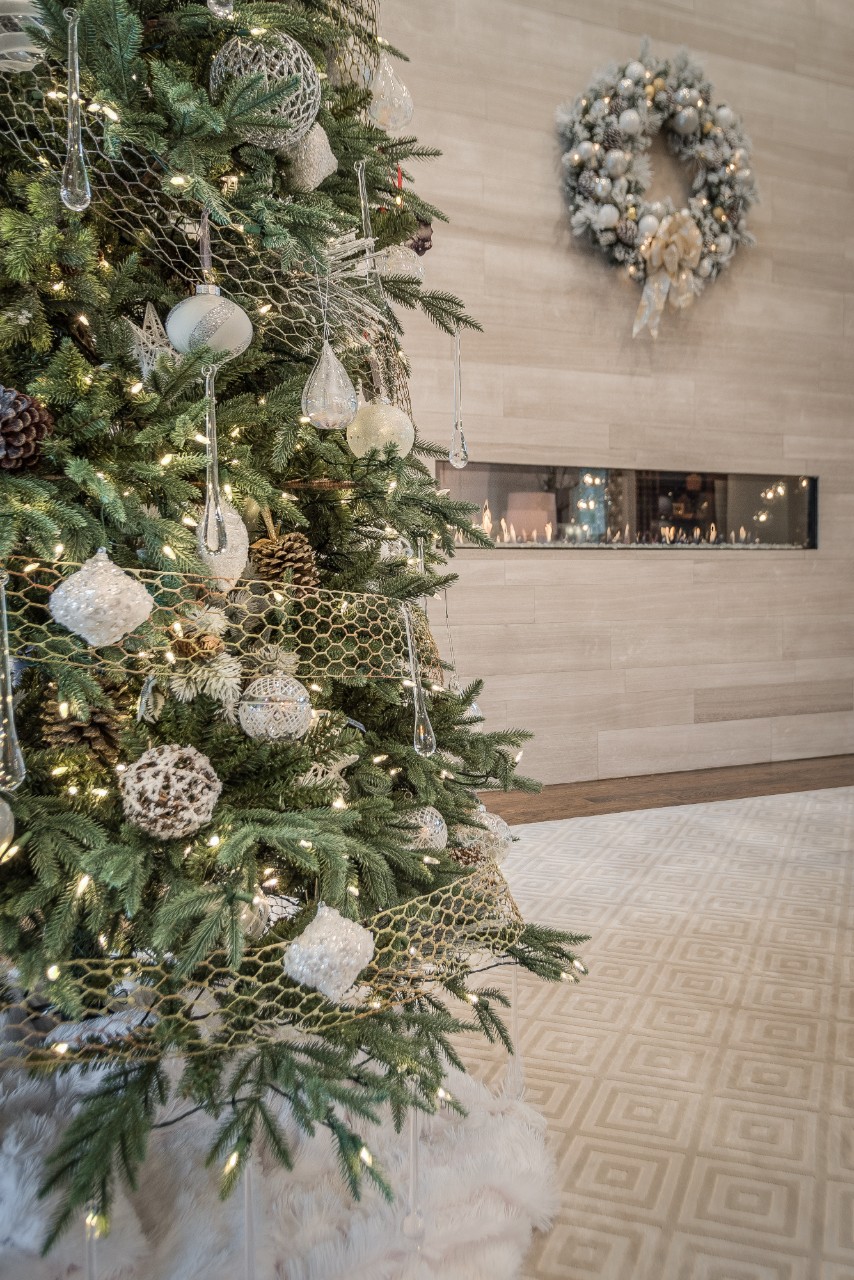 "It was so great to come home to a beautifully decorated home (better than I could ever do) and having that stress gone."
D. Bell | Euless, Texas
Farrha's eye for color and style were wonderful, she did an amazing job blending new décor pieces with our existing Christmas decorations. I enjoyed working with MOD Interiors team and I was thrilled with the results.
V. Vega | Colleyville Texas
We hired MOD Interiors to decorate our home last minute and they did a great job, even though we were last minute. Our home looks beautiful, classy & festive for the holiday season. I highly recommend them, and we will definitely use again. 
Rick P. | Southlake Texas
Holiday Design Packages and Services
We believe our Holiday & Christmas services offer clients a priceless commodity: TIME.
We offer a variety of services, as our clients all have different needs.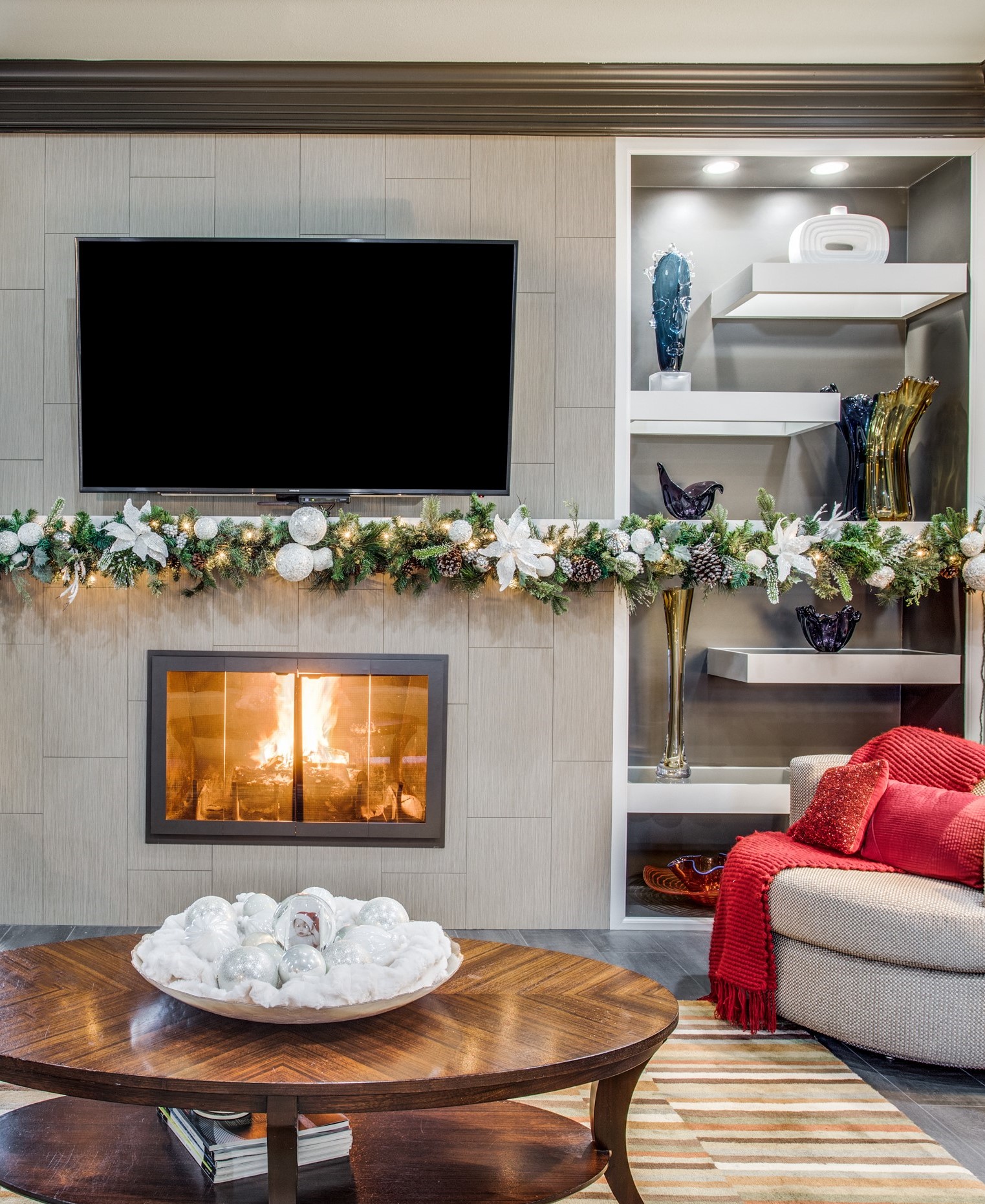 The "Your Décor" Package is where we decorate with clients existing decorations. This Service is great for clients who are busy professionals that wants to enjoy a beautiful decorated home for the holidays, but do not have the time or the "eye" to do it themselves.
With this service, we always have additional items on hand. Over the years, we've found that clients never have enough lights, ribbons, or ornaments. If we feel that the tree or tabletop display needs a little pizzazz, we can add what is needed. We will always run it by the client and provide a ballpark figure of the cost first. We usually add holiday fragrance like balsam or pine to bring that multi-sensory holiday feeling to life. We do ask that the client assembles the tree and brings out all the decorations for easy access.
The "Your Décor" Holiday Packages starts at $699 we will decorate:
(1) 7' Tree fully decorated

Your Choice: (1) Custom Designed Mantel Garland Or Wreath

Installation and Takedown
With the Full-Service package, we provide everything needed to beautify your home for the holiday season, including the tree! The clients get to decide what areas of their homes they want decorated, their preferred color scheme, and the size of their trees.  
Our full-service package is popular with first-time homeowners, businesses, and commercial spaces. This is also an attractive package for homeowners who have had the same holiday decorations for years and are ready for change. Some of our clients like to travel for the holidays, staying in a hotel, rental home, or condo, this package to fill their holiday home with Christmas cheer. This service is also ideal for people who love changing out their color schemes frequently and don't want to deal with storing holiday décor.
Full-Service Holiday Packages starts at $1399 and you get:
(1) 7' Tree fully decorated
Your Choice: (1) Custom Designed Mantel Decoration OR                                          (1) Custom Designed Wreath
Installation, Takedown & Storing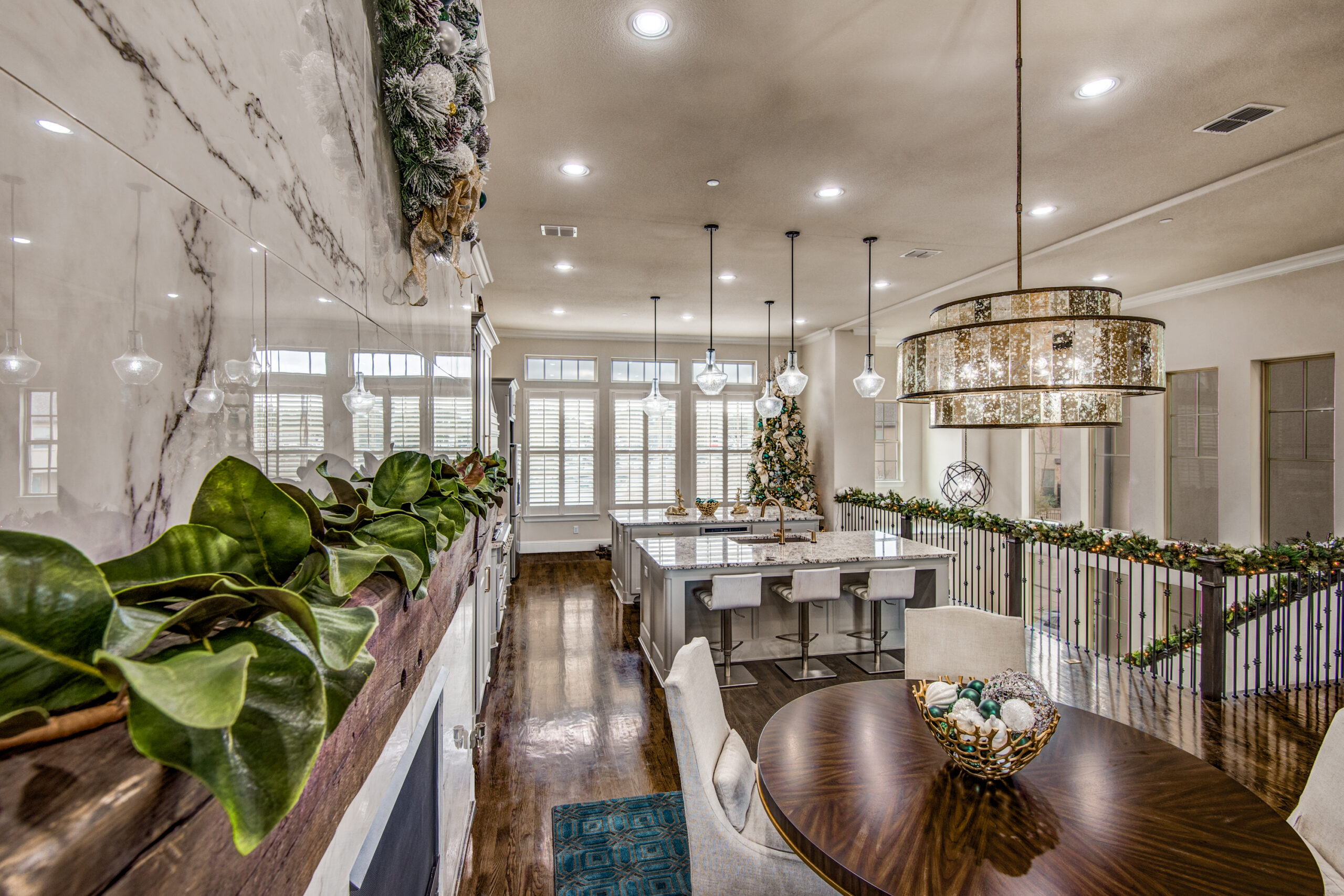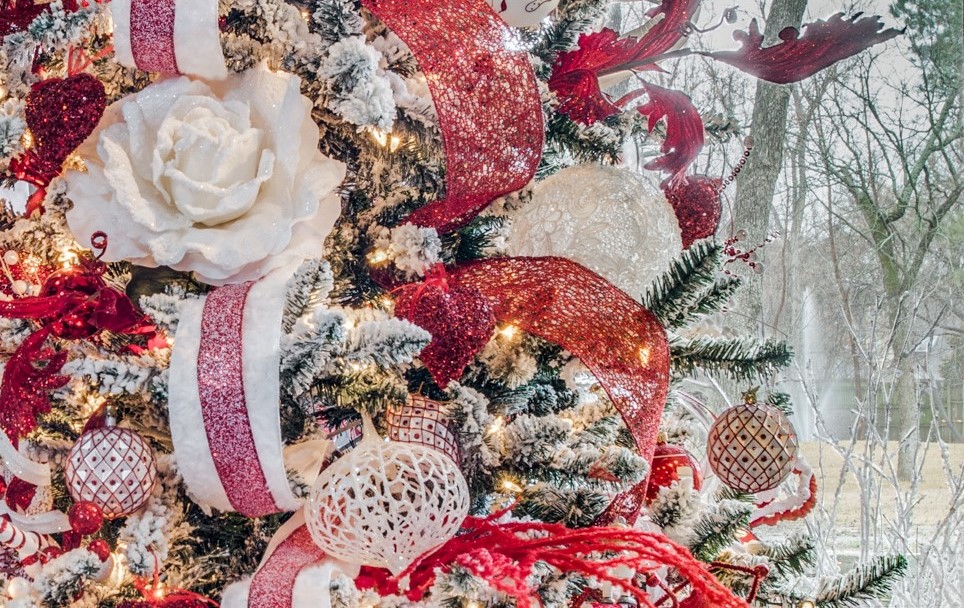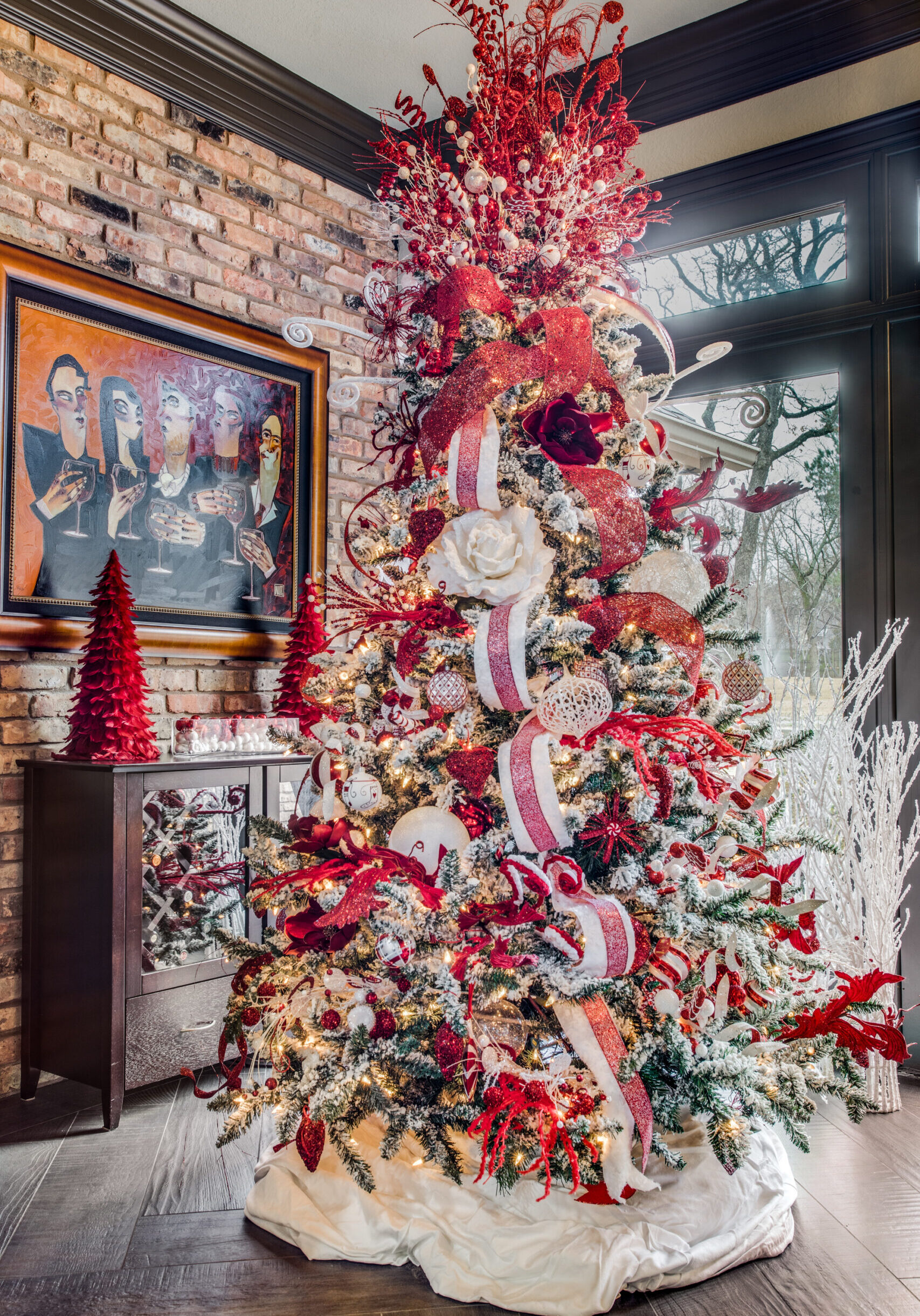 Below are some of the services our Christmas Decorators at MOD Interiors provide:
Christmas Tree Designs - Customized tree designs for any theme. No one dresses Christmas trees like we do! from traditional to modern contemporary, we can create the ultimate Christmas tree to complement your space.
Embellished Accessories – Dressed your home to the nines by adding grand focal points with our luxurious accessories; sumptuous pillows, hurricanes filled with sparkling ornaments, glass candle holders, holiday mats, and captivating table accents.
Enhanced Décor - Take your holiday décor up a notch by adding decorative detailing to your existing holiday decorations. We add dramatic focal points and rich detailing using impressive greenery, luxurious ribbons, elegant tree bouquets, and curated glass ornaments that adds a dramatic designer touch to your holiday styling.
Garlands - Custom decorated garlands whether lit or un-lit, are a great addition to your Christmas décor, they look great around doorways, over fireplaces and on banisters
Custom Holiday Arrangements - Bespoke displays can be used as a centerpiece or extra detail to enhance any area of a home or business. Spectacular vase displays, table vignettes, and custom wreath designs are some examples of our timeless holiday arrangements. Our unique displays work well for both residential and commercial projects.
Mantel Masterpiece – Let us bring some joy to your mantel for the holidays. We can add beauty with a gorgeous mantel swag, decorative sprays and wreaths, and gorgeous stockings to fill your home with festive beauty.
Cheerful Greetings - Exterior door décor service to create an exquisite reception for your holiday guest. This service offers outdoor décor that complements your home. We can incorporate topiaries to flank your doorway or garage. Use sprays to adorn wall sconces, lampposts, or gates, and use lush oversized garlands, swag, and wreaths to offer an elegant welcome to your holiday home.
Holiday Design ProcessHow It Works
We know how to make celebrating the holidays easy and beautiful! See how we transformed these spaces into a truly magical holiday wonder.
Curious about the results?