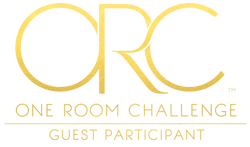 ONE ROOM CHALLENGE: Week One
For about three or four years now I have been wanting to take part the one room challenges, however, I have had so much going on between being a quote on quote boss Babe lol… lol, being a mom and being a recovering divorcee, running a full-time design business I just could not figure out when I was supposed to find time to do this too, so I never did, until now. I am not sure how many glasses of wine I had the night I decided to do it, but I did! So here goes nothing…. And if I'm going to be thoroughly and transparent, I actually signed up for last Fall's and didn't quite get my ducks in a row to get going, but this spring I am all in the one room challenge spring 2019 woohoo!!!
All that being said I've decided to do a bathroom this particular bathroom it's dated, very 1990's dated. Oh and it has what It called "the creepy wall texture" I call it creepy because it looks like it's just melting onto the wall Imagine popcorn ceiling that's melting that's what it looks like that's the texture on the wall ,that's number one, number two the room is a very small  with too many doors not enough storage and in desperate need of some TLC and a little bit of modernization to help it catch up to 2019. Below you will see the pictures of what I'm working with ..
Do follow along and see this transforms, I have big plans for this space, nothing insanely crazy but definitely more fun, more organized, more functional, and a little happier place to be in. I think I'm going to call it my modern retreat that's it! hashtag #ORCModernRetreat, I love it! I hope you follow along I will be posting every week on Instagram and on my blog with updates to keep you guys playing along so please feel free to comment and be as involved as you like as we go on to this 6-week journey together.
If you have not heard of the ORC click here to learn more.