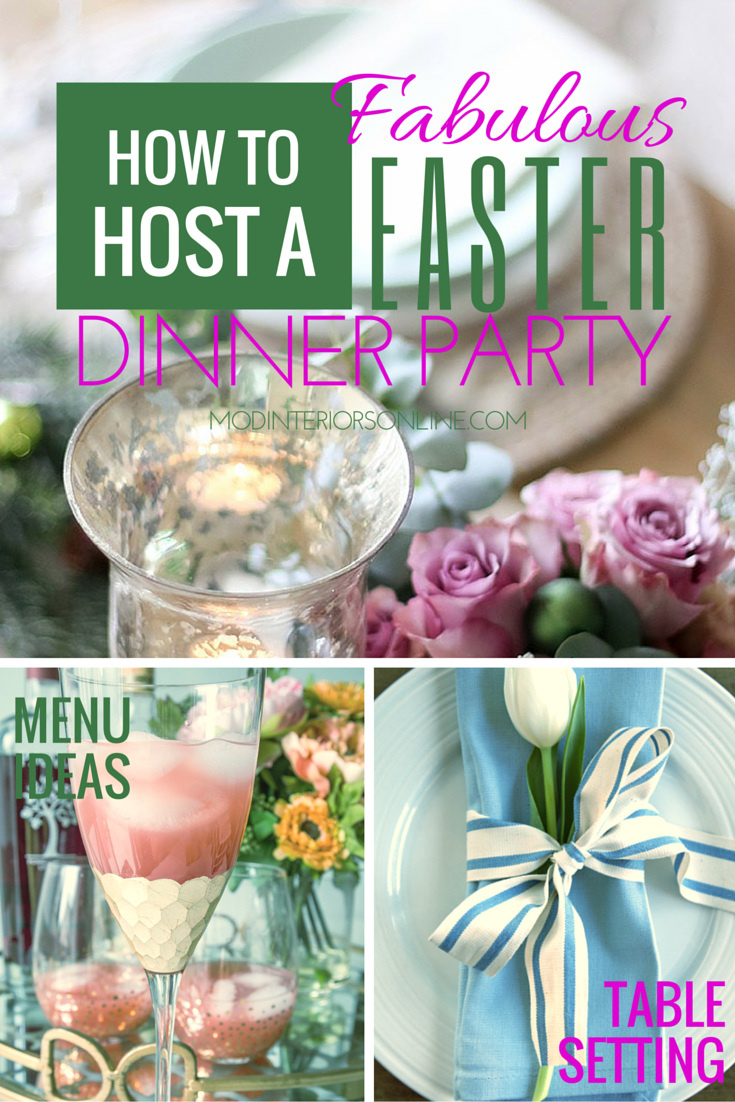 How to Host a Fabulous Easter Dinner
Are you having family over for Easter this year and looking for ideas and tips on how to host a fabulous Easter dinner for your friends and family? Here is how to host a fabulous Easter dinner.
I love to entertain, be around people and making them laugh. I am my best when surrounded by family, friends and even strangers. I remember as a kid I use to always get in trouble for talking too much; signs of a professional butterfly in the making.  Still today, my passion for entertaining and making people happy is alive and well. Though the responsibilities of running a business and taking care of family often take up more of my time, I always like to make time to entertain especially around holidays like Easter, Thanksgiving and Christmas.
Oh the joys of Hosting! Making the guest list, decorating, creating the menu, cooking, and adding the special touches that make guests feel welcome from the moment they walk through the door, is no easy task. Today I am going to share with you some tips to help you plan your party, look fabulous and have time to mingle with your guests.
There are plenty of details to attend to when hosting a dinner party, to make sure everything is just right. Here are my simple steps to make sure you cover all your bases and make entertaining effortless.
The key to effortless entertaining is organization. Having a solid plan to ensure success is vital. The first step is to answer the following questions to establish the basics.
WHEN: what is the date and time? Sending invitations for a traditional family Easter dinner is not necessary. By this I mean, if you host Easter dinner every year. A simple telephone call several weeks in advance is sufficient. If it is your first time I would recommend sending invites at least two months in advance so that people can plan accordingly.
WHO: who are the guests you want to invite? Be realistic about how many people you can accommodate in your space and start with the most important people to you whether family or friend. Easter dinner is all about being surround by people you love and cherish. Don't invite because you feel obligated.
WHERE: what is the location? Evaluate your space — make sure your guest list doesn't exceed the space and equipment you have. The average-size room can generally accommodate 30 people, a three-room expanse about 60. If you are doing buffet-style, you must provide seating. Consider doing it outdoors or renting a space if your home is not big enough to accommodate the number of guests you want.
WHAT: what is the occasion or theme? Why you are throwing the party will help you decide the date, time, location and guest list. A sit-down meal, you may have to buy or rent; dishes, flatware, glassware, linens, seating, and serving pieces. A buffet is a little more versatile and may be more tailored to fit your space or budget.
BUDGET: How much do you want to spend? Set Your Budget and stick to it! Consider liquor, food, rentals, service, music/entertainment, flowers, and decorations to establish your initial budget. Think drinks, alcohol can be a major expense. Don't feel as though you need to be as well stocked as a bar or restaurant; consider serving a signature drink, and be creative with your food choices to limit costs.
Once you've answered these questions, the structure for your party is now in place. Now use this information to figure out the details. The type of party will dictate what you need for equipment. Outside of that, be creative and tailor your dinner party to your personal style.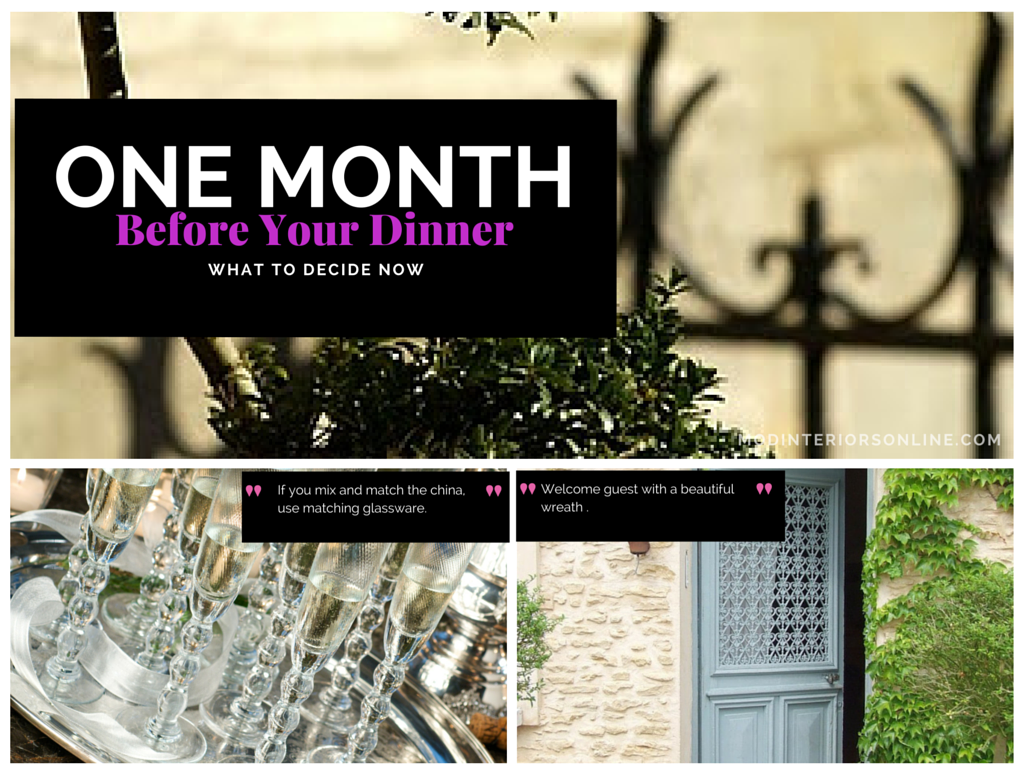 Best to get some things figured out early so you can stay on track:
Customize the menu with appetizers and add-ons! This would be a good time to decide if you want to order items or hire a chef. You want to make sure to go ahead and schedule them immediately. Tip: Serve the first course family-style, by placing platters on the table for everyone to share. It gives you time to work on your next course.
Make a List of everything you need. Be sure you have sufficient plates, utensils, and napkins for everyone. Tablecloths for the tables, side tables, and bar. Don't forget water and wine glasses. Depending on the number of guests you have you might want to invest in some chilling buckets to keep your fridge uncluttered.
You don't have to spend a fortune on any of the above items. you can score some well priced assortment of tableware at places like Homegoods and choose to indulge in selected items with a trip to your favorite home décor shop.
Take a good look at your home and decide what needs to freshened up. Pay close attentions to areas like your entry both outside and inside, this is what your guests will see first.
Consider curb appeal: is the grass cut? do you need to add some spring flowers? does the front door need a touch up? do you need a new mat? have the gutters been cleaned? and is it well lit? Lots of potential problems, but all reasonably easy to solve.
In your foyer; consider what it will look like to your guests. Create an area for coats and jackets if it is still cold in your area. Have a focal point and a surface where you can create a welcome bar area so every guest can get a drink once they arrive. This is also a great area to place a beautiful arrangement of fresh flowers and a great smelling candle.
It's spring, take the opportunity to create a spring cleaning list and get that completed ASAP and don't hesitate to hire a cleaning company or enlist the help of family members.
Make a detailed shopping list and cooking schedule. Shop for beverages; a good rule of thumb is 3 bottles of wine for every four guests. Place an order with the local butcher, fish shop, baker, or liquor stores as needed. Nothing sets the mood for a dinner party like the soft glow of candles. Purchase unscented for the tables and scented for the bathroom and entry.
Music will create the ambiance for your dinner, but doesn't have to be complicated. For an Easter dinner, it is generally there for background support. Make your music list now and get it out of the way, you will thank me later. TIP: if you have a paid subscription to an ad free music streaming service like Spotify, they have great playlists to choose from, you may want to listen to a few before making your decision.
Arrange the furniture as you'll want it for the party, check for flow and remove clutter, and designate areas/tables for appetizers, coffee and dessert. Figure out the lighting: everyone looks better with light on their face. Put lamps on your buffet or server. Use low-wattage bulbs and candlelight. Do not use overhead lighting, a low-lit atmosphere is half the battle in creating ambiance.
Decorate your home: bring out all your spring décor items and get decorating. Create fun springy vignettes throughout your home, don't forget a nice wreath for the front door. A perfect Easter gathering starts with a well-dressed table, so finalize what your table will look like.  Consider the place settings and centerpiece; you are not only limited to using flowers, you can use seasonal fruits, or an interesting sculptural centerpiece instead. You want to make sure it's the right scale and allows guests to see each other.
If you are not having your food catered, prepare dishes or part of dishes that can be prepared a week ahead of time. The goal is to spread out the work to avoid getting tired or stressed.
Flowers add a splash of color and elegance to your décor, purchase them as close to your parties date as possible so that they're fresh (no more than 1-2 days prior). Set them where you want for the special day.
You'll want to tidy up the house the day before so you won't have to stress on the day of your party.
Create the seating plan: take into consideration who people are seated next to and set out place cards accordingly . Tip: Make sure place cards have first and last names, written legibly, on both sides, so guests know the names of people sitting opposite.
Do as much of the cooking as possible. Do as much prep (dicing, marinating, rinsing lettuce, etc.) as possible for any foods that require cooking on party day.
Set the table 1 day before and put out all your decorations and candles. Dress your table to compliment the Easter theme! Easter is a great time to break away from the formal china. To pay homage to new beginnings and springtime try using an all-white plates or white chargers with pastel plates. Throw in a few pastel porcelain Easter eggs as place markers and you're set!
Make sure the dishwasher is empty, this will make clean-up easier.
Equip the powder room appropriately. Add pump soap, candle, and individual guest paper napkins in the powder room (prevents yucky overused guest towels). Tip: use white wash clothes rolled up in a pretty basket or tray and have a container clearly marked "used towels" for guest to toss them in. Roll these weeks in advance.
Designate someone to greet guests. Make it clear they are to offer them a drink and make introductions to make each guest feel welcome.
ONE HOUR BEFORE
Light the candles and turn on the music. Music should be just loud enough so that people can to talk above it slightly.
Uncork the wine, stock your welcome drink station, toss the salad and set out the appetizers. Try not to have everything ready when guests arrive, so that people can pitch in and help in the kitchen. It's a great ice-breaker! Tip: these items are great to have early arrivers do for you.
Make sure you eat something light. Have a stiff drink before anyone arrives. If you are having fun, everyone will have fun.
Make yourself beautiful, change into your party clothes.
Easter is a great time to relax with friends and family and indulge in all that is delicious. A great hostess doesn't have to do it all on her own, so be sure to enlist help from few family members and friends ahead of time. They can help with cleaning, setting up the buffet, or organize the drink station. If you are a busy professional like most of our clients, don't hesitate to hire help; A chef to help you prepare the food. A bartender for the first few hours of you party to take care of the drinks. A designer to help you with the decorating and space planning. Your job the day of the party is to add the finishing touches, look fierce, mingle to keep your guests happy, and enjoy the party!
Remember lovelies, Easter is about Amazing Love, so honor one another and have yourselves a Happy Resurrection Day!
Creatively yours,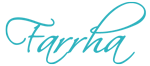 *BONUS*
You didn't think I would forgot about you, did you??
I know you want to look your best! And you should… so make sure to book yourself a facial and massage one week before your dinner, to relax and recover from all the hard work you have put in. You deserve it. If you didn't know Easter is code for "Bring Your Best" when it comes to fashion. And as the host you are required to look stellar! (Add this to your ONE MONTH BEFORE list) Now, this does not mean you have to bring out your granny hat and your tea party gloves. Spring Fashion today is all about looking classy and sophisticated without giving up your Personal-Fabulous-Style. So don't be afraid to stick to classic pieces and bring the color in your accessories like jewelry, shoes and bag. But if Easter fashion to you means a nod to bold colors and floral prints than go for it! The point is for you to be you and look fabulous doing it.
Here is some inspiration to bring out your inner fashionista…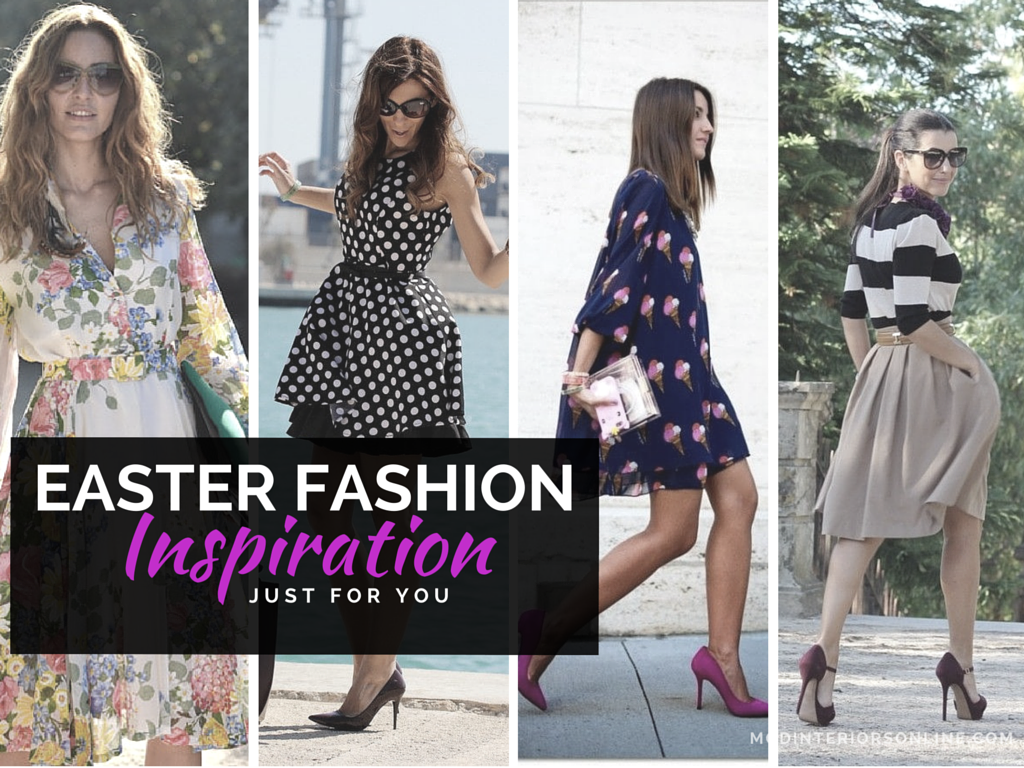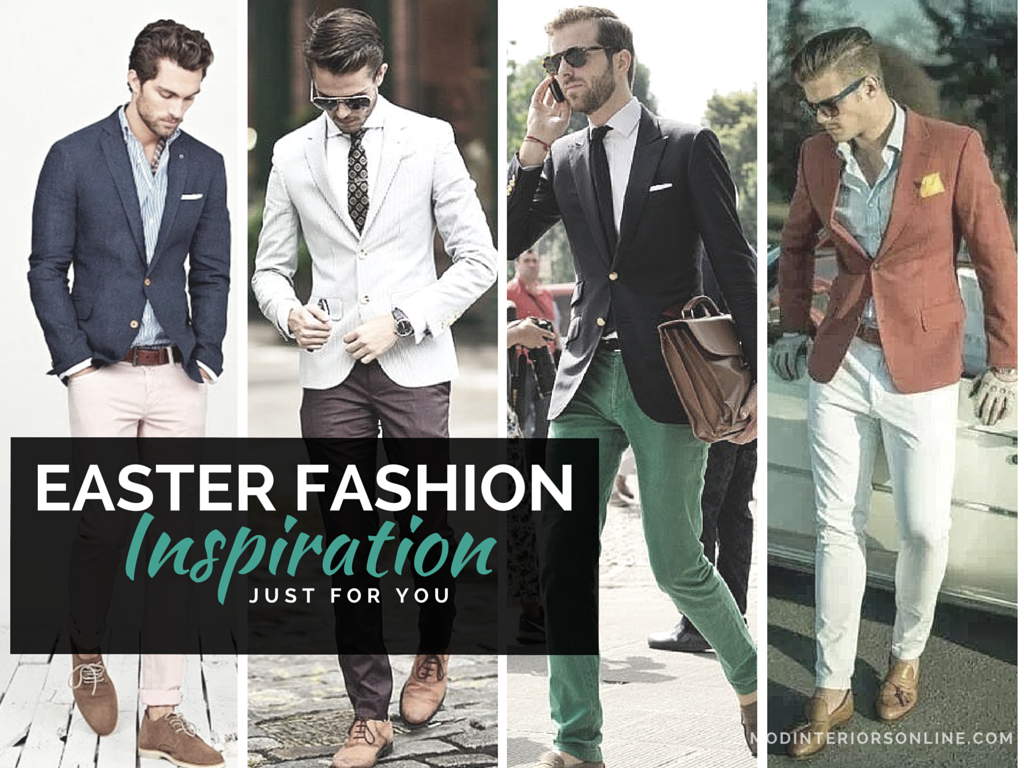 If you find that you still need some help coming up with a design inspiration for your space,or just want to chat with an experienced interior designer in the Colleyville/Grapevine area to help you figure out your personal design style and create a stunning design for your home. Call MOD Interiors at 214.404.4000 or contact us.
Photo Credit