The dining room. Is it still relevant? 
The formal dining room, the space that has always been used for holiday gatherings and formal dinners just a few times a year, is now getting a lot more attention as people have a new appreciation for togetherness, after the recent pandemic. 
What was once a space that was strictly for eating, the dining room recently transformed into something else. With the large table and ample space, the dining room became prime real estate for many. It became a business table, a school desk, perhaps even a table for arts and crafts. While the space, for some, was getting more use than ever, gathering to eat meals on special occasions became a thing of the long forgotten past. Why?Because with the pandemic came that dreaded isolation and the most unbearable seclusion. Gone were the toasts, and announcements we could expect those few times, in the year. And those that had used the dining room to eat regularly, now ate in front of the television in bed or on the living room sofa, or even in the office while working from home!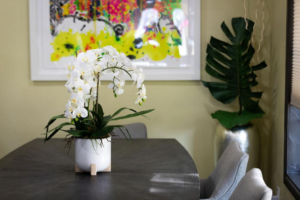 But in light of it all, we were taught one thing- that we not only missed that. We needed that. We, as the social creatures that we are, need to connect with one another. We need the physical benefits of sitting upright as we eat just as much as we desperately need to feel an emotional connection with our loved ones. 
And so IS the formal dining room still relevant? Well, in short, it always has been. It may have transformed along the way, but it's always been relevant. And now, it's getting more attention than ever as we come out of seclusion and begin to gather for, not just holiday gatherings, but  also our daily meals, and more frequent get togethers with friends, as well as family. As we, again, sit down with one another to eat the tastiest of foods, as we live, laugh, and love one another. 
So with the holidays rapidly approaching, let's talk about how we can design our dining rooms to suit our dining and entertaining needs. Here are my four principles for creating the perfect dining room. 
Furniture & Layout
One of the most important points to consider when designing your dining room is selecting the right furniture for the space. The dining table, chairs, buffet or sideboard will be your foundation. 
Make sure you have a dining table that is not only appropriate for the space, but also big enough to accommodate your guests without having them feel like sardines in a can, unless of course… you wanted them to be a part of the menu. If the space is not big enough to accommodate the number of guests, feel free to leave out the sideboard. Many of our clients tend to focus on the "rules" of the room rather than the functionality. Remember, this is your space and we want it to suit you; so make sure you keep an ample amount of space around your furniture to use the room properly. 
Storage
We love entertainment. When you call friends for dinner parties or family events at Christmas, entertainment is something you have to deliver. And when you need to do this, you need the right storage solutions for all those table decorations, serving dishes, and classy plates, etc. All these things need a lot of valuable cupboard space in the kitchen, so I recommend anyone to allow for a sideboard in their dining room.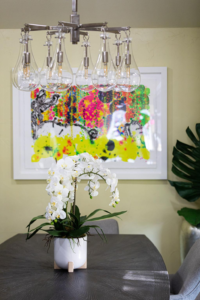 If you're thinking, "I don't really entertain all that much so this does not apply", think again. Furniture with functional storage will not only declutter your dining room, it will also free up some prime real estate in your kitchen too.
Opening up space in the kitchen cabinets will allow you to move the appliances you don't use often from the kitchen counters into the cabinets. Those large serving trays, dishes, napkins, and "best" china can be moved to the sideboard as well.
Lighting
As you spend more time in the dining room entertaining family and friends, it should be properly lit. Be sure to have overhead lighting, task lighting and ambiance lighting, having multiple light sources will make it a perfect multi-purpose space. Comfortable for the kids when they use it to do their homework, and perfect for you when you need to use the bale as a crattable. If you truly want to enjoy this space, you need multiple layers of light. Having a sideboard or console in the room will also provide you a space to add a lamp and some decorative items. 
Finishing Touches – Accessories
The last part I want to focus on are the accessories for the dining room. This article is simply incomplete without the 4th principle for an ideal dining room!
Some of my clients prefer keeping their dining rooms completely clear from clutter, but I believe the dining room can still be dressed well. If you decide on a sideboard here, you can go for styling console tables with this piece of furniture (as it is very similar to consoles).
The table is one of the main elements here and should be designed according to its primary use in your home. As mentioned earlier, every family uses the dining room differently. It may be for those rare entertaining occasions, or maybe used every day! No matter what you need in this room, it looks completely fabulous when the table is dressed.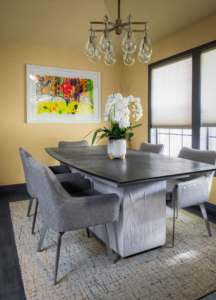 The dining table is more than just a place with dining mats and cutlery. It should have a centerpiece too. If you have a dining table with a circular shape, an elegant vase filled with seasonal flowers is a simple way to dress it. With rectangular or square tables, you need to have more than a vase. I recommend a few plant pots arranged in a line (obviously with seasonal flowers if possible), or a large tray with multiple accessories in.
I hope you enjoyed this post and received a few insights on how you can perfectly design or redesign your dining room. To explore more of such content from MOD Interiors, you can subscribe to our newsletter, and we will surprise you with more interesting posts!
Creatively Yours,
FARRHA HYMAN