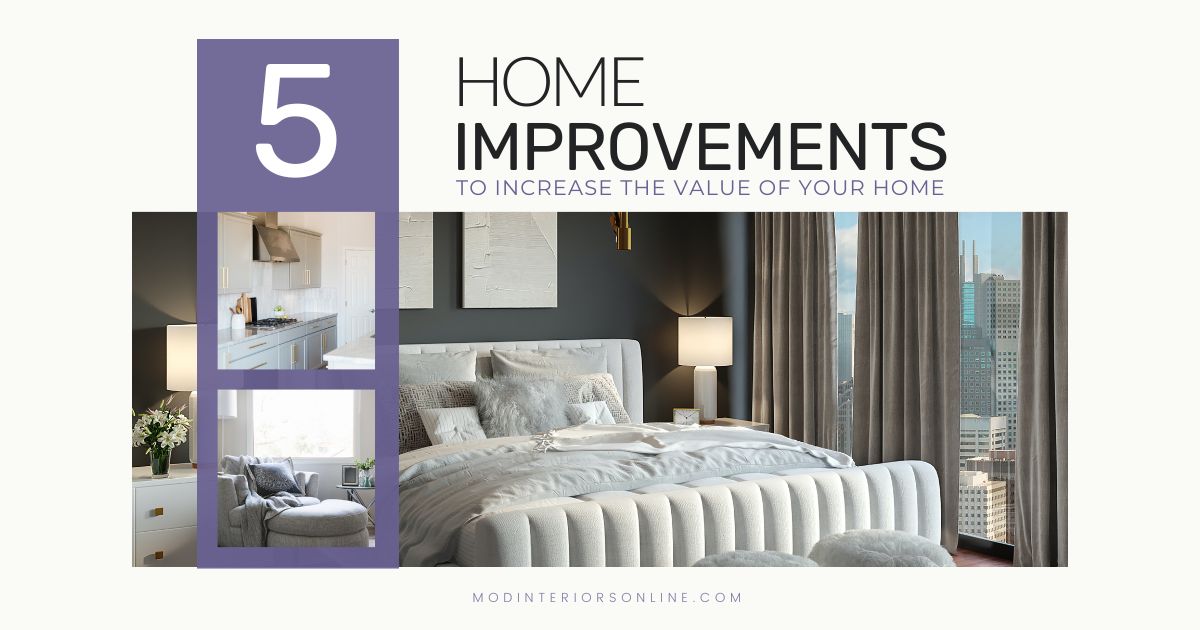 We are often asked, " Which home improvements add the most value to our home that will net the greatest return?" As a homeowner, it's always important to consider ways to increase your property's value. Whether you plan to stay in your home for years to come or sell it in the near future. A home addition or a remodeling can help you maximize your investment. Here at MOD Interiors, we have  helped countless homeowners achieve their goals through various home remodeling projects. In this post, we'll be sharing 5 home additions that can make a significant difference in your property value. Whether you're considering expanding your kitchen or master bedroom, we've got some great advice for you.
1.Kitchen Upgrades That Increase Home Value
You probably already know how important the kitchen is in a home, a place where families gather, create delicious meals, and have unforgettable experiences. Remodeling your kitchen is the best way to add value to your home while also improving the way you live. With more space, you can upgrade your appliances, add a spacious island with additional storage and seating, install elegant fixtures, and create a more functional layout. The return on investment for a kitchen remodel can range from 54 percent to 80 percent.
2.Transform Your Master Bedroom into A Relaxing Oasis.
When it comes to increasing your property's value, underestimate the value that a stunning master suite can add to your property. By renovating or expanding this area, you can create a luxurious retreat that will have you feeling as though you're always on vacation. Whether you're remodeling to increase functionality or to enhance the look, you might want to think about expanding the closets and installing a custom closet system with built-in drawers and cabinets. Or, adding an elegant sitting area that's perfect for winding down after a busy day.
If you want to take things to the next level, adding a balcony or patio with sliding glass doors that seamlessly connect the indoors and outdoors is a must. This type of renovation would not only improve the functionality of your bedroom, but it can also yield you 40%-80% return on your investment.
3.Expand the Square Footage of Your Master Bathroom.
Let's face it, a master bath that's too small can be a deal breaker. As a result, increasing the size of the master bathroom is a surefire way to increase your home's resale value.
But don't stop there! Why not design it for accessibility and convenience? Add a luxurious curbless shower with multiple shower jets, a spacious vanity with pull-out storage, and plenty of room to spread out while you get ready in the morning. These updates will increase your property's value, improve your current lifestyle, and get your home ready for aging in place.
3.Build A Private Outdoor Space for Entertaining and Relaxing
It's no secret that outdoor rooms are all the rage today. They're the perfect extension of your home's living area, giving you extra space to entertain guests or simply enjoy quality time with your family. Think about adding a charming patio, a cozy deck, or even an outdoor kitchen. It's like having a vacation spot right in your backyard! The added value and enjoyment you'll get from this investment is truly priceless. For those of you wondering , yes! You do get a return on your investment, if you opt to add a well-designed outdoor space to your home, it is estimated that your home's value will increase by 8%-10%.
5.Transform Your Basement into a Functional Living Space
If you have an unfinished basement, don't let that space go to waste. Finishing it out is an excellent way to increase your property's value. Consider creating a flex space that includes an additional space for lounging, complete with a home bar, a guest room for overnight guests, or a hi-tech home theater where you can watch your favorite movies in style. Be sure to include a bathroom, beautiful hardwood floors, and a proper lighting plan.
Are you thinking of remodeling your home to improve the way you live while raising the resale value at the same time? Contact MOD Interiors: we can help you make your house the home of your dreams. The market value of your property will increase significantly as a result of these modifications, regardless of whether you want to remain in the house or sell it in the near future. Don't wait; start transforming your home now! Click here to schedule a complimentary call with us.