HELP! my entry is so bland and boring. Any holiday decorating ideas to create a festive entryway to welcome my guest this year?

– Lisa N.
As interior designers, we love this time of the year and as always, we have lots of fabulous holiday decorating ideas to help you prepare your home for the holiday season.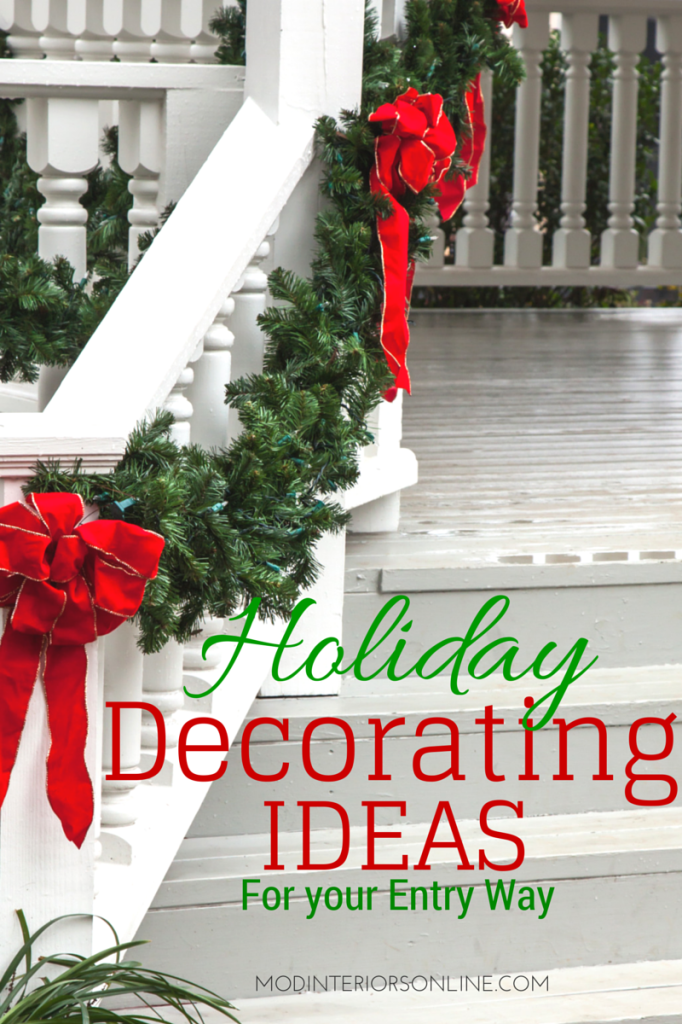 Wondering where you should start when dressing up your home's entryway to welcome your friends and family? This year make a seasonal statement! Whether you have a small or expansive entryway, there are lots of fun ideas to take an otherwise boring entrance from drab to Fun & Festive! So if you are ready to begin celebrating Christmas with us, here are 3 simple holiday decorating ideas to help you create a warm and welcoming entry way to our home.
Depending on the size of your external entrance, select one or two Christmas trees or Magnolia trees (about 3 foot tall) and place them into decorative planters, one either side of your front door. Use some of your favorite decorations to pretty up the trees (although Magnolias are beautiful all on their own) and even plant a few small Poinsettias around the base of the trees.
If you don't have enough space outside your front door, but you have a lovely entry way inside, then you can use the exact same idea. Just place one or two welcoming trees set in beautiful planters, either side of a well-positioned hallway mirror to reflect the light or off to one side, if space is limited. Decorating is great fun, and you may want to check out three dimensional decorating and see whether this would be something you are interested in, it is extremely unique and is bound to grab the attention of your guests!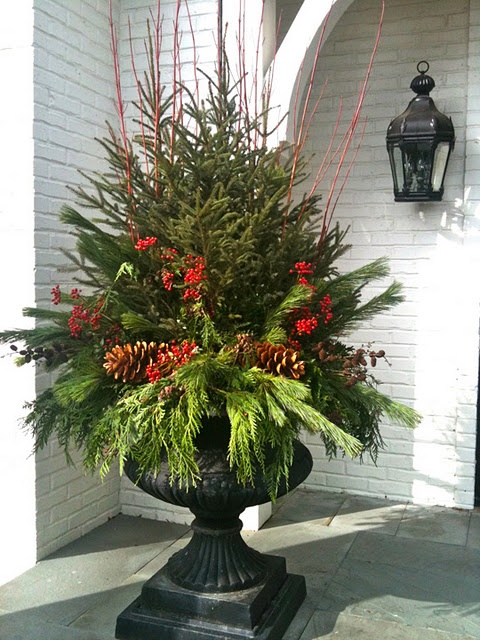 Space is really tight? Never fear, why not place some tall, narrow glass vases on the floor of your entry way and fill them with some beautiful holiday decorations? You could place a few shapely, winter branches in each vase and drape them with tinsel and baubles or simply fill the vases with pine cones, nuts and cranberries.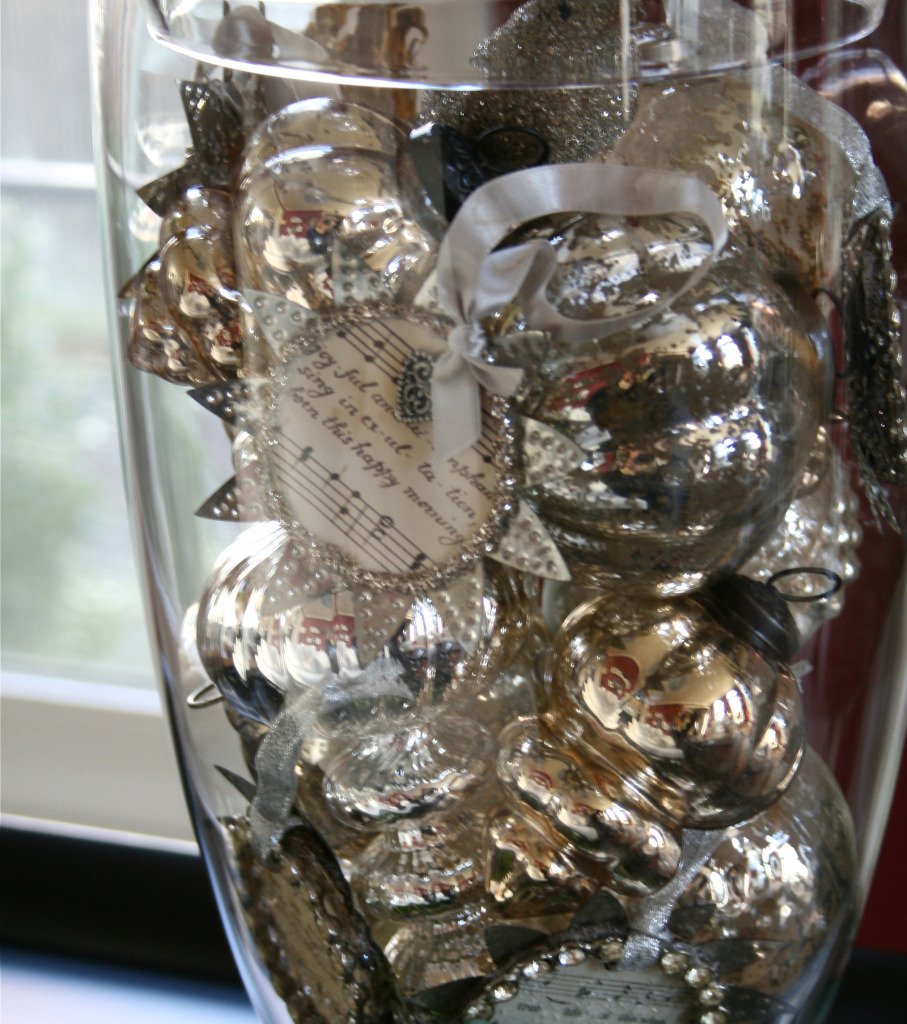 In honor of making a splash, I love to do it up "BIG" with my holiday decorating. So if you have to big double door here is a simple idea that can make a huge impact.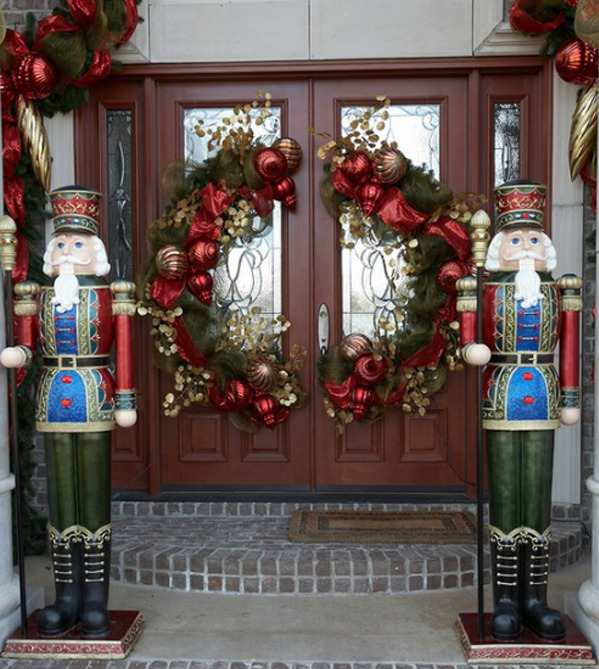 If you have tall ceiling in your entryway and really want to take your holiday decorating to the next level this year. How about a Christmas tree wreath chandelier. Yes! A Christmas tree Chandelier, these things are amazing and will have your guest talking. You can decorate them to match your existing decor or do something wild and crazy for your entry. Decorate as you would any wreath with ribbons, ornaments and I personally like to add battery operated lights. Such Fun! Oh by the way you can even put one over your dining table.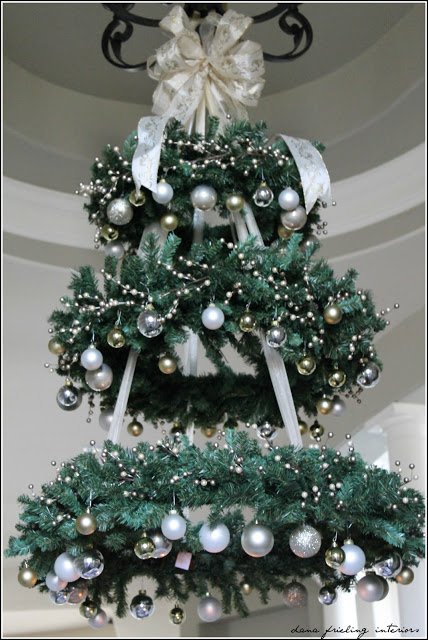 Dress your porch in holiday style this year by decorating with hanging frosted baskets filled with sparkling accents. Frost a hanging wire basket with spray paint. Hot-glue felt snowflakes to a white or frosted indoor lamp globe. Nestle fresh-cut greens in the wire basket and top with the embellished globe. Don't stop there; add a string of battery-operated lights inside the globe to light it up. Hang multiple of these arrangements in varying size from your porch to welcome your holiday guest.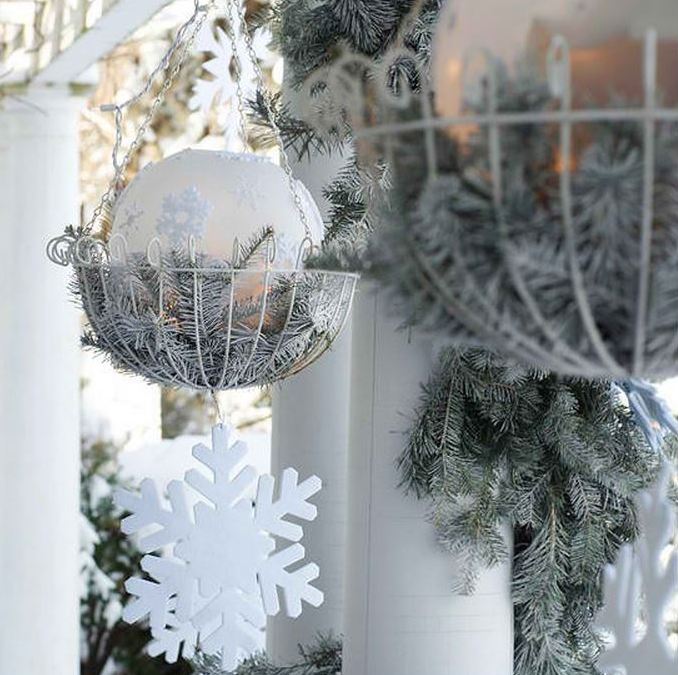 Lastly, you can decorate your entryway or window with hanging Christmas ornaments using beautiful ribbons at varying heights to create an eye catching welcome for friends and family. This is one of the easiest way to quickly take care of your entry holiday decorating.
Creatively Yours,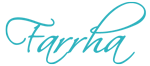 For more information on holiday decorating for your home or business or to chat to an interior designer in Colleyville, feel free to call MOD Interiors on 214 404 4000, email us at: design@modinteriorsonline.com or complete our online inquiry form.
For more holiday decorating inspiration for your entryway visit our Pinterest board
Photo credit: Martha Stewart, Google, Pinterest, patiohomedecor, trendytree
SHARE THIS POST: